Jan 04, 2011 in Updates
My wonderful wife(and my mother in law because of my wonderful wife) presented to me a couple of pretty cool things for Christmas this year. Things of great value to BrothersStudios. When uitilized correctly,these  will enable us to initiate phase 2 of our plan for World Domination! Bwwwaaaahhhaaaahhhaa!
Warm Cards White Balancing System..these are really really cool…or warm actually.
And this Film Clapper Board…which will be really useful.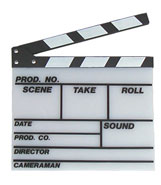 I am pleased…and so should you be… pleased, also as well..
Thank you!!!
I'm dsto and I'm out!